〉 Texas-Pacífico 〉 Newsletter
Newsletter July, 2014
Need Assistance? At Texas Pacifico, our customers are key.
For questions regarding switching, car delivery, or release of a car, please contact our
Yard Master at 325-949-0296.


For questions regarding safety concerns, please contact our
Safety Manager, Ysaias Ramos at 325-277-5982.


For questions regarding car accounts or invoices, please call our
Car Account Specialist, Elizabeth Fichte at 325-942-8164.


For questions regarding expanding an existing delivery, new sites, or new service, please contact our
VP of Sales and Marketing, Elizabeth Grindstaff at 325-942-8164.

Look Who's Doing Business on the TXPF
PROPPANTS:
CARBO Ceramics
EOG
Fairmont Minerals
Halliburton
Keane Group
Momentive
Pattison Sand
Pinnacle Sand
Preferred Sands
Smart Sand
Superior Sands
Texas Specialty Sands
Tidewater Transloading
US Silica
Vista Sand
TitanLansing Transloading
CRUDE:
EOG
Musket
Transmontaigne & BMH Transport
Plains Marketing
OTHER:
Angelo Pellets
Big Bend Minerals
Buddy's
Earth Partners
Elm Creek Grain
Hirschfeld Steel
HTC/Gavilon
Hudson Feed
Kasberg Grain
McCoy's
Texas Tank Car
Western Tower
Wingate Gin
Philmont Scout Ranch Builds Railroading Camp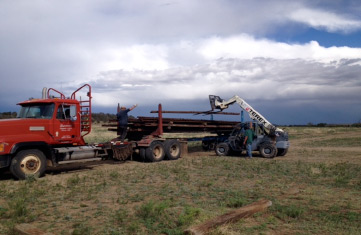 With the permission of Texas Department of Transportation, TXPF donated several miles of recently replaced 60 lb. rail to Philmont Boy Scout Ranch in New Mexico. The camp is using the 100 year old rail in a new camping area named Metcalf Station that will teach the history of railroading and its impact on western expansion.

The photo above, taken in May, is the last of the rail being placed on a logging truck for transport up the mountain to the Metcalf Station site. (This is the only kind of vehicle that can make it up the mountain roads.) Many other companies have provided materials for the project. For more information on the project, contact Sid Covington with Boy Scouts of America at 575.376.228. Photo courtesy of Sid Covington.
Texas Pacifico Operating Practices
Texas Pacifico is a growing company in the San Angelo region. We are hiring new employees and investing in the local economy. Texas Pacifico currently operates with twenty-one locomotives and continues to grow. Each train has an average of four locomotives and each locomotive produces 2,000 to 3,000 HP. TXPF has a daily inbound and outbound interchange with BNSF as well as the Fort Worth & Western Railroad. This means we will move approximately seven inbound and seven outbound trains per week across our San Angelo subdivision. Currently TXPF operates a continuous service to our customers between San Angelo and Big Lake on our Alpine Subdivision which translates into roughly one inbound and one outbound train every two days. Also TXPF provides a five day per week road switcher service to customers in San Angelo as well as customers located between Fort Stockton and Rankin.

In short, Texas Pacifico operates approximately twenty-one freight trains per week as well as two local switchers, providing services five days per week. Everyone at Texas Pacifico is working diligently to increase the flow of traffic and is committed to providing the best possible service to our customers.
Texas Pacifico is currently hiring conductors for the Fort Stockton yard. If you know of anyone in or willing to relocate to the Fort Stockton area, please advise them to contact Vickie Cope at 325-942-8164, or come into the office and fill out an application. Thank you so much!